Transparent Reality Dialysis/CVVH Machine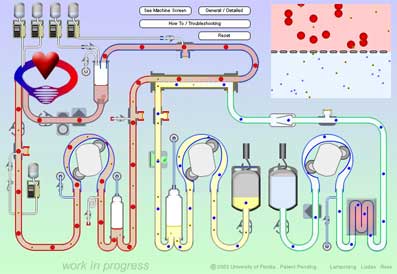 A Screenshot of the detailed machine tubing view
of the Transparent Dialysis Machine
Introduction
This simulation is a VAM-like version of a dialysis machine, specifically a CVVH (Continuous Veno Veno Hemodialysis) machine. It is modeled after BBraun's Diapact CRRT. Development was funded entirely by the University of Florida (UF) in an effort to develop a collaborative educational simulation in partnership with BBraun. The simulation is targeted primarily towards ICU nurses, who are frequently forced to interface with the dialysis machine when a dialysis technician is unavailable. This simulation resulted from collaboration between Edward A. Ross, MD, Division of Nephrology, Department of Medicine, UF and Sem Lampotang, Ph.D. and David E. Lizdas, BSME, both of the UF Department of Anesthesiology.
The simulation contains Quicktime movies obtained, with permission, from a BBraun training CD. You must have the Quicktime player installed for your browser. Click here to download the free Quicktime player. One of the movies (Perform a Bag Change) is synchronized with and controls the simulation.
Shortly after this simulation was presented at nephrology meeting, BBraun announced its intention to replace the Diapact with a new design yet to be released. This simulation is incomplete and development has been halted. It is provided here for demonstration purposes only.
The University of Florida is the sole owner of the intellectual property in this simulation (apart from the BBraun video imbedded in the simulation) and is open to collaboration with other interested dialysis machine manufacturers.
The simulation is about half a megabyte (491 Kb). We recommend a high bandwidth connection if you choose the "Perform a Bag Change" or "Prepare Machine" options under the "How To / Troubleshooting" menu. This links to streaming BBraun Quicktime movies, which are 3.4 Mb and 37.0 Mb, respectively.
This simulation is made possible by the University of Florida Distance Continuing & Executive Education.
Access the Transparent Reality Dialysis/CVVH Machine